StereoPhoto Maker on MacOS
The Windows 64bit version of Stereo Photo Maker now runs on Apple MacOS.

Confirmed to work on Apple Silicon M1 or Intel Macs with macOS High Sierra, Mojave, Catalina, Big Sur, Monterey.

There are some problems such as the function to use the built-in browser does not work, but the basic function seems to work.

I have also included a DMAG made by Ugo, so you can create a depth map image from a stereo photo.

The file size is large, more than 1Giga, because it includes the execution environment of Windows by WINE and is made into one executable file, but the performance seems to be fine.


Download
spm_mac_620a.zip StereoPhoto Maker Pro(64bit) Ver6.20 for MacOS (252Mbyte) 29th Dec 2021
After downloading, unzip and run SPM_MAC on MacOS.
The first public version (spm_mac_620.zip) had many files that were detected as viruses by some anti-virus software (Avast, etc.).
There is a possibility that it is a false positive, but just to be sure, i have deleted all those files and confirmed that they are not detected by the virus check.
In addition, i have deleted modules that are considered unnecessary for SPM execution and reduced the file size.

About "Gatekeeper" for Mac
We cannot run the downloaded StereoPhoto Maker for Mac with the following message.
Mac use a feature called Gatekeeper to block the execution of apps downloaded from the Internet.
Files downloaded from the Internet on a Mac will have a download attribute added to them, which will be checked and blocked.
So, you can run the downloaded file on another Windows machine by copying it to your Mac via USB memory.
Another way is to remove the download attribute from the terminal with a command.
Command in Terminal: sudo xattr -r -d com.apple.quarantine [Full Path SPM_Mac.app]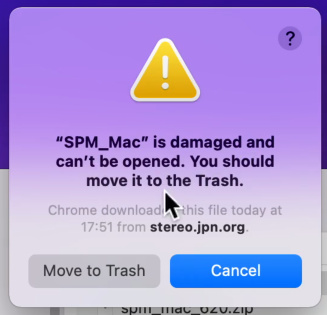 Demo video (Youtube)





How to upgrade StereoPhoto Maker Pro
When the Windows version of StereoPhoto Maker Pro is upgraded, you can use the following method to upgrade the Mac version.

1. Select "Show Package Contents" from the context menu of the SPM_MAC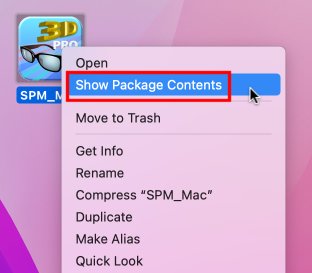 2. Open "drive_c".



3. Open "Program Files".




4. Open "SPM".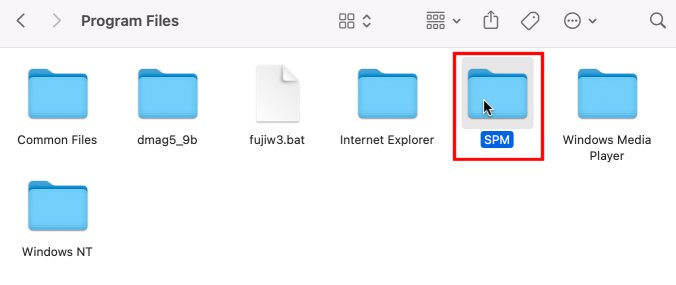 5. Replace "stphmkrpro_e.exe" with the latest version.